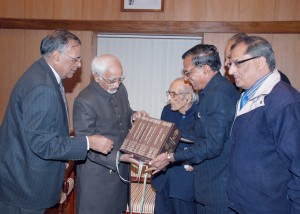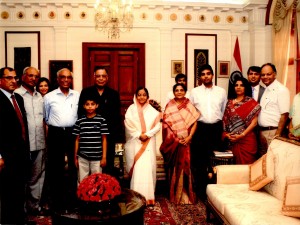 Since its inception, Bharatiya Vidya Mandir and its many associate institutions have been conducting various cultural programs, conferences and seminars for propagating and popularizing Indian culture.
Inauguration of Gangaur Gavarja – 31st March 2011. Gangaur Gavarja is a book authored by Dr. Babulal Sharma on the Gangaur festival. On the occasion of the inauguration a cultural program was held. Representatives of various bodies which organise Gangaur Puja attended the program and were felicitated.
Presentation of "Indian Encyclopedic Survey of Indian Culture" to The Honourable President of India, Smt. Pratibha Devi Patil and Vice President Md. Hamid Ansari. The 8 volume literary work, authored by Dr. Bithal Das Mundhra, Chairman of Bharatiya Vidya Mandir.
Vaichariki Lekhak- Pathak Sammelan, Jaipur,  3rd and 4th March 2012. The Chief Guest of the program was Shri Ashok Gehlot, Chief Minister of Rajasthan. Discussions on History of and Archeology in Rajasthan were held. Author Shri Shankar Bhatt, Sanskrit scholar Shri Kalanath Shastri, Rajasthani Folktale writer Shri Krishna Kumar Sharma, eminent scholar Shri Rajendra Kr. Singhal and writer on Archaeology Shri Ratan Chand Agarwal were felicitated.
Inauguration of statue of Late Shri Moolchand Pareek – 18th October 2011. The function was held in the memory of the eminent freedom fighter and social worker, organised by Girdhardas Mundhra Siksha Sangstha, Bikaner and Bikaner Samaj, Bikaner.