Born in Bikaner, Seth Girdhardas Mundhra was a very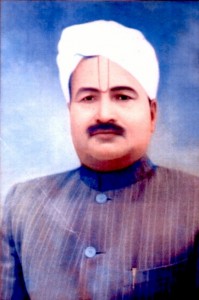 religious and spiritually inclined man. He always had a keen interest in social work. The national language of Hindi, had a very special place in his heart. He dreamed of building a new, young and universal culture; firstly by providing education and literacy starting from primary education and secondly, by heralding in a cultural revolution by promoting innovation and public education, as well as revaluation of the existing cultural practices. So periodically, he would invite scholars to various cultural meets to acknowledge their achievements, felicitate and honor them, and would arrange for them to engage in deliberations to enlighten and educate people with their knowledge.
Seth Girdhardas Mundhra was responsible for getting Bharatiya Vidya Mandir affiliated with Board of Secondary Education, Department of Education, Ajmer as well as accepted by the All India Adult Education Conference, New Delhi. He was instrumental in providing free education and books for underprivileged children and widows.
Seth Girdhardas Mundhra's assistance and support for Bharatiya Vidya Mandir was steadfast from the very beginning. He was an integral part of the management committee and the President of the Rajasthan Bal Bharati School. After he passed away, his two sons, Madhodas Mundhra and Jagmohandas Mundhra picked up from where he left and gave their full support to the organisation, which infused new life into Bharatiya Vidya Mandir.